HOW TO TEACH ONLINE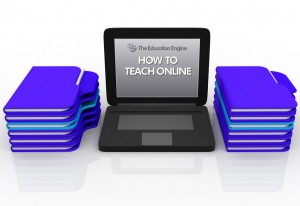 You've got a skill. You know somebody else would love to learn that skill. Now what?
Let's first NOT assume you need a classroom, classmates, discussion groups or any other preconceived notion of equating 'teaching' with 'a group of people'...regardless of how you were raised and educated. Instead, let's consider what happens in education today when you REALLY need to understand something. You get a Tutor and for some intense one-on-one learning. No classmates, no videos of some guy teaching something somewhere in some classroom to a bunch of someones. We're not reinventing the schools we attended. We're teaching online.
Paradigm about to shift...
Teaching online has gone through a wild ride for K-12 and College courses. The models they work under still maintain that 'group' behavior and, by their own admission, the MOOC model has been less than successful when looking at percentage of completion of courses and the actual transfer of knowledge.
But what about teaching something that isn't a course on world history, or pre-calculus, or the psychology of crowd control? What if the skill you want to teach is for small & medium business owners on how to write better advertising? What if you're a restaurant owner and need to teach new hires everything from Safety in your workplace to how to cook your signature dishes? What about all the things that need to be taught, but not in 'school' as we all know it?
Teaching a skill or way of doing things online is becoming increasingly easier as the barrier to getting your knowledge into a form that teaches is also becoming easier. You simply need to get your subject into a logical, progressive order and truly understand what items are essential to learning your subject.
Let's dissect that for a moment...
What you're going to teach can easily be defined by having you answer this question: When a person takes my class they'll learn how to _________. You fill in that blank.
As an example, let's say you wanted to teach 'How To Teach Online'. As with any new skillset, there are several things that must be available to assure the desired outcome. Similar to a recipe, you've got ingredients that need to come together at a precise measurement and at a precise time.
To teach How To Teach Online we first set expectations; In this course you will learn how to outline your skill into its most important elements (Chapters) and what items are essential to each of those elements (Chapter Content). You'll want to confirm with each student that they actually did learn what you were instructing (Questions). You'll also want to demonstrate examples online to support your subject and its outcome throughout. This can be through Video, Text, Graphics, Downloads all strategically placed within your course on teaching online to assure the student has them readily available and understood.
'How To Teach Online' now has structure.
Title:
HOW TO TEACH ONLINE
Chapters:
1) Manage Expectations
2) Chunking: Developing Course Chapters
3) Chapter Content & Quizzing
4) Interactivity: The Secret Ingredient
5) How Much Control Do You Want or Don't Want?
6) Communicating With Students
7) Course Completion
Technologies like The Education Engine were designed for teaching like this. To take your ideas and knowledge and power them with a suite of easy to use tools that require you to only copy, paste, point and click your way to course development. The above seven Chapters of our course now have structure that needs content to support it.
Content is not daunting, it just needs order. To continue this example, we'll now take Chapter One in How To Teach Online and break it down into its essential content.
1) Manage Expectations
To use my own advice, I'm going to look at this Chapter and include content that will support it. The main point I want to get across is what will happen when you take this course. The name of the course tells that story, but in this first Chapter I want to spell it out so that the student really understands what they're gaining by completing the course.
a. Seven Chapters, each based on Mastery Learning, designed to take your thought of teaching online and turning it into an actual online course.
b. Each Chapter broken down into small discrete lessons that follow a logical progression.
c. In order to demonstrate mastery over each lesson, students must be able to overtly show evidence of understanding the material before moving to the next lesson or chapter.
d. Upon successful completion of this course, each student publishes their course online.
Chapter One is becoming pretty clear. This course is not only going to teach me how to teach online, but tells me how this is going to happen AND at the end actually makes it happen. Expectations managed. Do this exercise for each of the seven Chapters in this course and you can easily see how 'content happens' and becomes organized.
By now you're seeing the simple order elements needed to take your course live. You take big things, turn them into little things, and little things you turn into interactivity. Without over-simplifying this, we'd do the same exercise to each of the four letters representing Chapter Content above.
Because The Education Engine was built specifically for one-on-one learning, for business, for the professional, for the hobbyist, for anybody wanting to transfer their knowledge - as well as get paid for it -let's take the fear or expensive of technology out of the equation. It's all there for you ready for you to 'add content'. Given this, let's add content to item 'a' above.
1) Seven Chapters...
a. List the seven Chapters and what they'll gain from each one
b. Give Video examples of each Chapter online in other courses as example
c. Give a download Quick Reference Guide for use in future Chapters
d. Show, graphically, online course structure
e. Ask questions to get them used to interactivity
i. Chapter One is called (fill in the blank) Expectations
ii. In the video above which is correct?
1. You should force a student to answer correctly before proceeding
2. The answer is 'hidden' in the image mouse-over
3. OPEN ENDED QUESTION: In 1,000 words or less, tell me the idea you have for teaching online.
This pattern of taking Chapter Content and further Chunking it into smaller bite-sized pieces is the secret to online learning. From assuring comprehension to moving onto the next chapter, your students achieve comprehension through Mastery Learning. In Mastery learning, the students are helped to master each learning unit before proceeding to a more advanced learning task in contrast to 'conventional instruction'...lectures you watch in a group setting and try to absorb.
You can also see that teaching online isn't something you can whip out in an hour or two. It takes planning and preparation, and that takes time.
To state that the above is an over-simplification of teaching online would be accurate as well as the desired effect of this article. Like teaching a course online, the goal of this read was to bring you out of the noise of minutia & opinion offering you a view of the process from 30,000 feet. Its cliche, but your skill has an audience just waiting for what you've got. A simple search will prove that immediately. The point was to get you to take action on your idea and start teaching online immediately. It's time to click or get off the pot.
If you've already done your planning and preparation, then the only thing holding you back is putting it into a platform you can invite people to learn from. For people and business who have many courses to teach, The Education Engine was made specifically for you. If you have one class you want to get online, The Education Engine is your answer.